February 9, 2021 by Pauline G. Carter
In the 21st century, more and more people are looking to include an element of self-sufficiency in their life. This has led to an increase in the number of people wanting to house chickens in their garden.
Who doesn't love the idea of strolling down to the bottom of the garden in the morning to pick up eggs for breakfast? You just can't beat homemade scrambled eggs!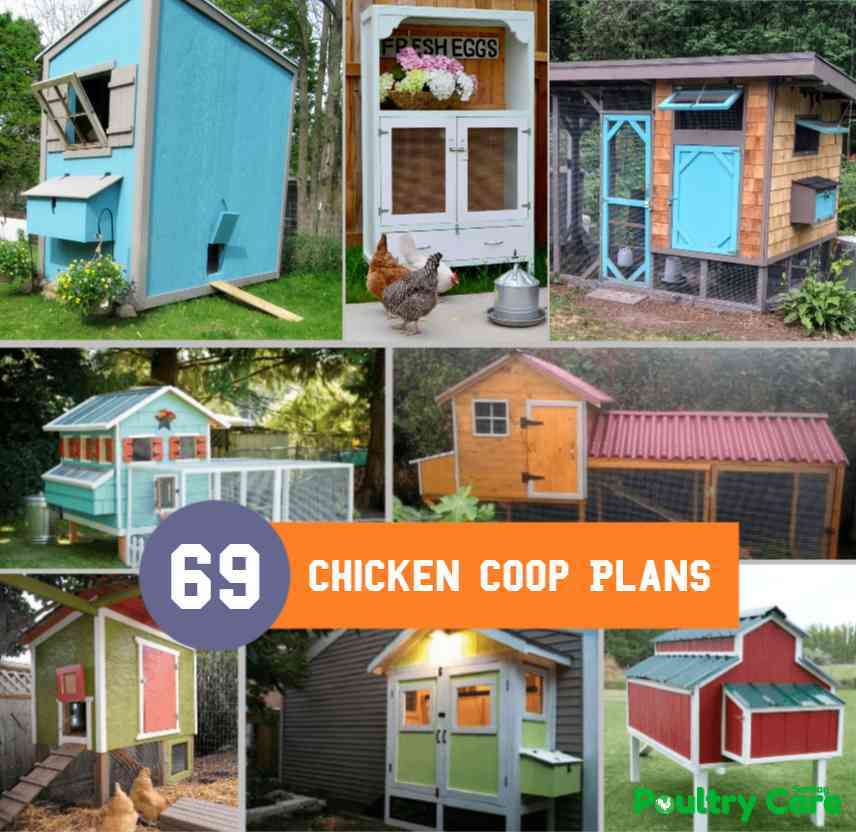 But, your first step towards introducing chickens into your life is to find a chicken coop plan that works for you. The good news is that, there is a range of free chicken coop plans to choose from.
Before that, see the list of the Best Chicken coops possible to choose now to buy instead of making itself.
Below we will outline the fundamentals when it comes to how to build a chicken coop and will run through some of the most popular free chicken coop plans you can find today.
How to Build a Chicken Coop Properly?
Building a chicken coop can feel like a daunting task, but if you keep in mind a few simple principles and follow these tips and guidance, you'll have a chicken coop standing tall and proud in the bottom of your garden in no time!
1. The Right Size
One of the first things you need to consider when planning your new chick coop is size. It is recommended that you have at least 4 square feet for each chicken. So if you just plan to have a couple of chickens, you won't need that much room.
But if you're planning a chicken estate then you're going to need a big coop! It is also worth planning long term. Many people get one or two chickens and soon decide they want 4 more. So it's best to be generous when planning the size of your chicken coop.
Related Article – Homemade DIY Automatic Chicken Waterer You'll Ever Make
2. Features to Include
There are certain features that are essential if you want happy, healthy chickens. The first feature it is advisable to include is a perch. Chickens are more comfortable when they sleep on a perch, so having a perch is like providing humans with a king sized double bed!
You will also need nesting boxes. This provides them with a safe place to lay their eggs. Since hens lay 1-2 eggs a day, ensure you give them a large space to lay, so aim to keep the boxes at least 4 inches deep.
It is also a good idea to ensure proper ventilation. Just like humans and other animals, chickens need fresh air to circulate regularly, to keep it a relatively clean, healthy environment. Simply fitting a window or a vent will serve these purposes and will go a long way to limiting bad odors!
3. Accessibility
Another important thing to keep in mind is accessibility. It doesn't just need to be accessible for the chickens; it also needs to be accessible for humans.
This will make cleaning and be collecting the eggs far more straightforward. So include access doors and dropping trays where you can, this will save you time, effort and a great deal of hassle.
Related Article – 15 Most Common Chicken Diseases, Symptoms and Treatment
4. Materials and tools
Remember you are building a home! That means, don't just dive straight in without taking the proper measurements and collecting all the necessary materials. Use a tape measure and carefully write down all the space requirements you have and need.
You don't want to get half way through the job and then realize there is no room for a runner or access doors!
Materials are also equally important. Once you have decided on a plan, get your materials together in an organized fashion. That way you can ensure you have enough materials to complete the job and save you having to build your DIY chicken coop plans in a number of stages.
69 Free Chicken Coop Plans
Before that, see the list of the Best Chicken coops possible to choose now to buy instead of making itself.
1. Amazing Chicken Coop Plan by Home Depot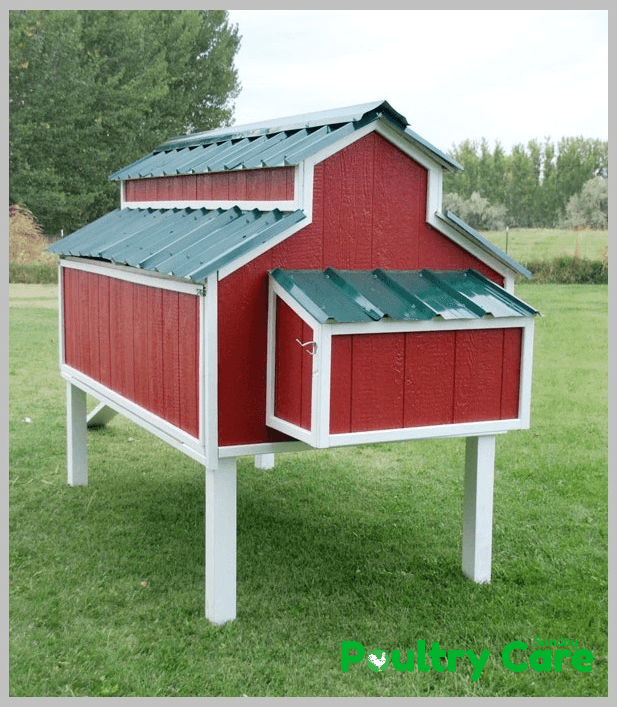 First in our list of DIY chicken coop plans is the fantastic plan from The Home Depot. It's large at 32 square feet, so it can fit for up to 12 chickens. The plan focuses on several vital elements. Firstly, it looks to create an easy to access nesting box.
It also uses a smart design to ensure cleaning the coop is as hassle-free as possible. To achieve this they have designed a coop where one whole side folds down!
2. Urban Chicken Coop Plan by The Tangled Nest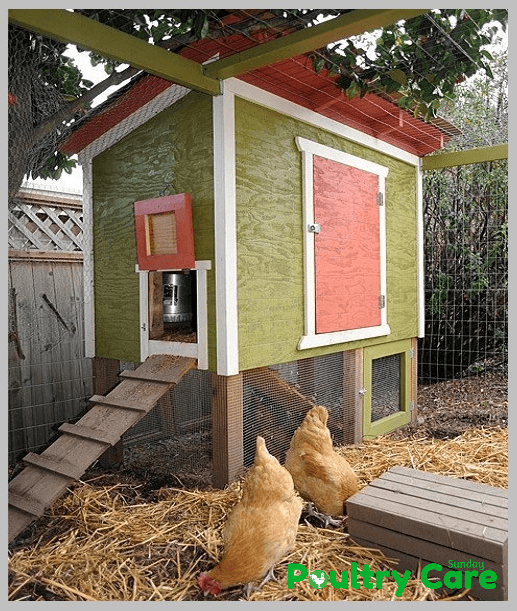 If you're looking for a coop that's safe from raccoons and any other predator, then this sturdy, safe design may fit the bill.
It has two big doors, one on the front and one on the back for easy access. Another selling point is the fact it's raised, making access by unwanted visitors challenging to say the least.
3. The Palace Chicken Coop Plan by Steamy Kitchen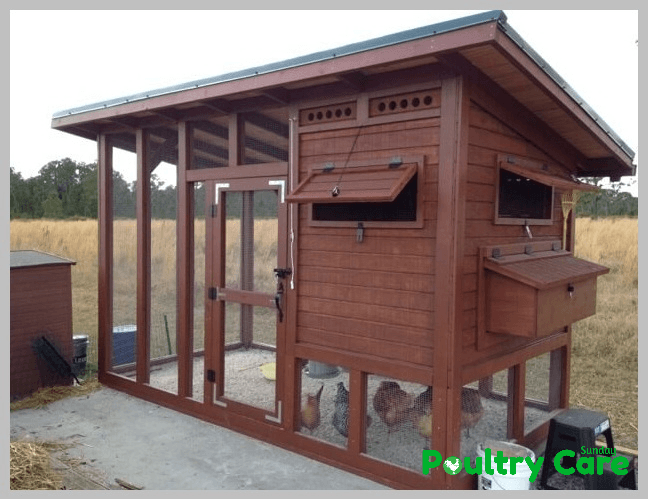 Next on our list of free printable chicken coop plans is the chicken coop from the steamy kitchen. This high tech plan is small but full of useful, accessible features.
With a range of diagrams, photos, and blue prints, building your chicken coop with these instructions will be a walk in the park.
4. Bluegrass Coop Plan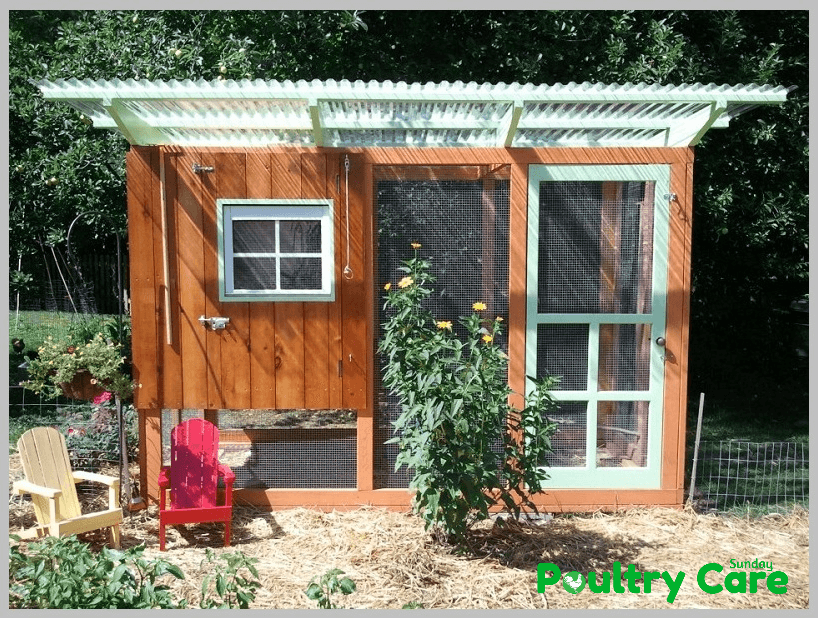 If you're looking for chicken coops that are safe from predators, then the modern, wired design of this coop is guaranteed to bring you peace of mind.
Not only is it safe, but it also has a functional scoop making retrieving eggs a 30-second process! Plus, it comes with a well thought out roof and what chicken doesn't deserve a fancy roof?
5. Portable Mini Chicken Coop Plan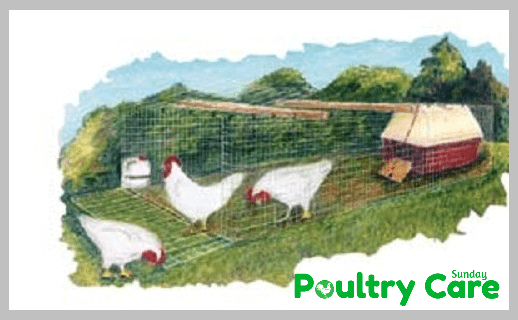 This coop stands out from the rest because it's portable. This makes it ideal for those who travel or like to take the chickens with them when they go to visit the in-laws.
Using hog rings, mesh, and wood, this intelligent design is easy to build and straightforward to move.
6. BarnGeek Free Chicken Coop Plan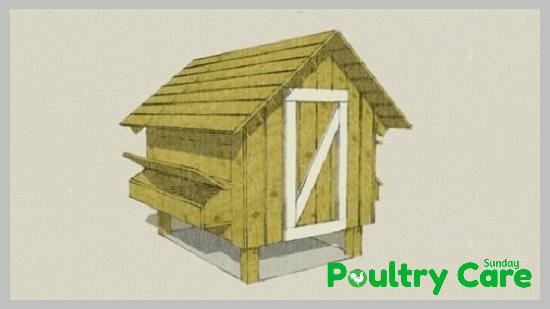 If you buy this coop when it's built it costs $2000, but with this easy to use plan you can build the same coop for a fraction of the price!
It's a solid medium sized coop that can house 6 chickens and comes with an easy access flap on the side of the coop.
7. Backyard Chicken Coop by Robb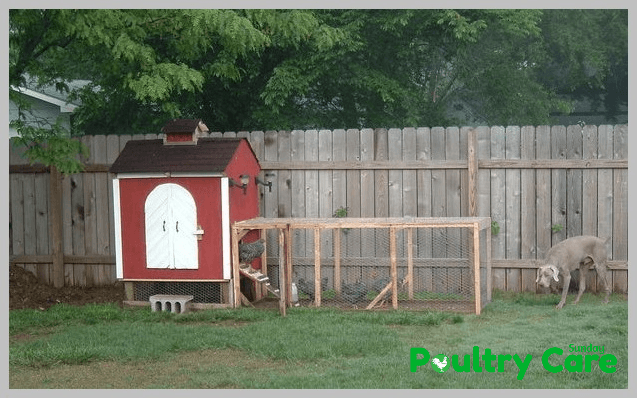 This coop is ideal if you only have 6 chickens and when you can build it for just $40, you simply can't go wrong.
It's mostly made of wood but has a window for ventilation, plus it has a large wired outside area to ensure the chickens get some space.
8. Chicken Coop Project at BuildEazy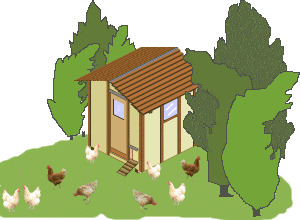 This is a fantastically designed chicken coop that can house up to 8 chickens. Plus, it allows plenty of extra room for storage and a hatchway. This is the coop plan made my BuildEazy
The instructions are extremely detailed, offering precise measurements and lists of all the materials you need. If you're looking for a quick and easy midsized chicken coop, this could well be the one.
9. The 'South City' Coop Plan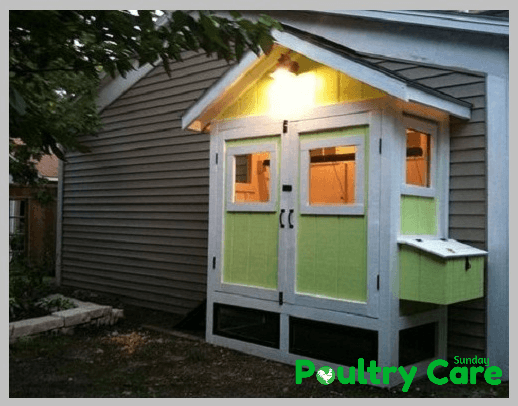 This unusually shaped coop is ideal if you have a challenge in terms of space. It fits lengthwise on the side of a building, neatly and compactly.
It can home up to 5 chickens and it's other stand out feature is the numerous windows and ventilation shafts. This will keep your chickens and garden smelling clean.
This coop plan also included list of A frame chicken coop plans.
10. Free Downeast Thunder Farm Chicken Coop Plans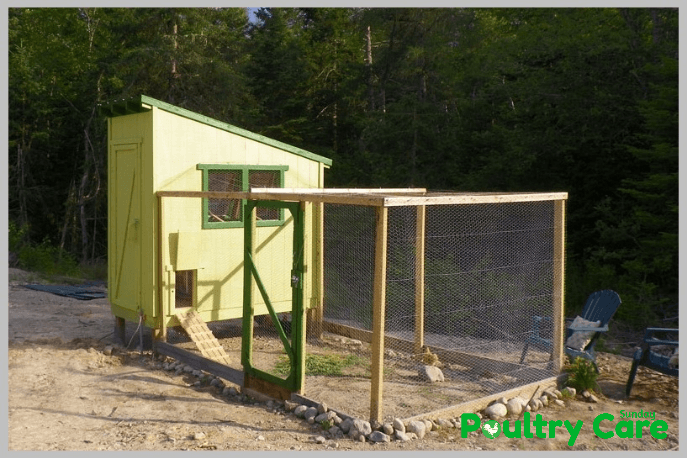 When it comes to chicken coop plans this is one of the more sophisticated. It utilizes sturdy materials and although it might not be the quickest to build.
If you're looking for reliability and accessibility, this is close to the top. Plus it's a neat 4×8 feet and includes a generous yard.
Related Article – Wyandotte Chickens, In the Pecking Order, Come Out Tops
11. Chicken Cube Coop Plan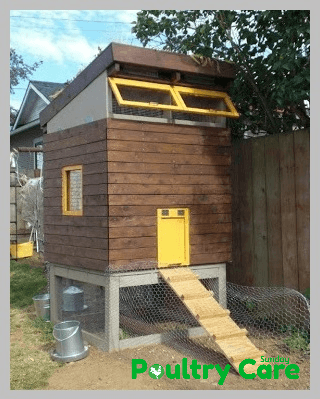 As the name suggests, this coop is in the shape of a cube! This serves as more than a cool view though; it's a practical design that provides enough space for nesting boxes and a perch.
Plus, with the design of the roof, you can grow free food on the top!
12. Trictle's Chicken Coop With Plans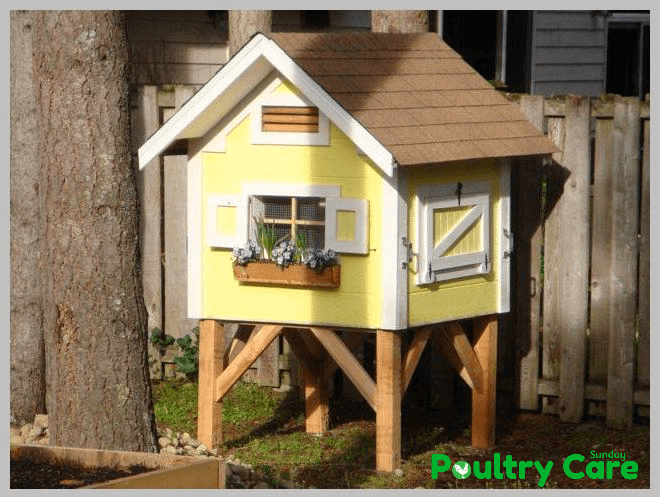 This chicken coop is a really intelligent design. It's ideal for up to 4 chickens and is built on stilts. This serves to not only protect it from predators but also helps prevent any concerns about floods.
The plans are easy to follow and meticulously detailed! If you want a smart, easy to put together coop, this could be the right one for you.
13. My6chicks's Chicken Coop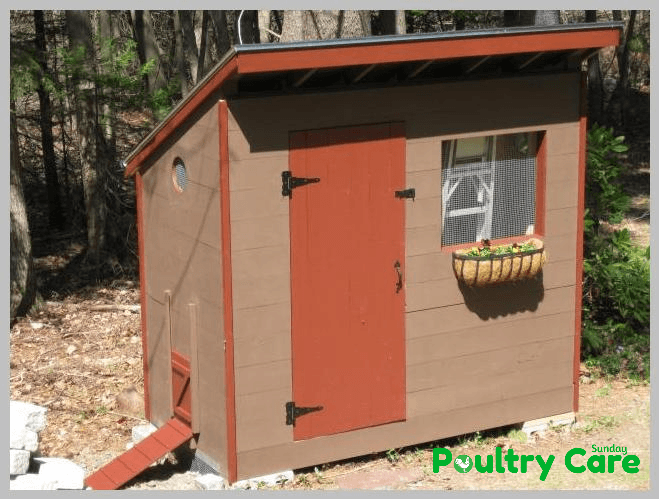 What separates this from the rest of the chicken coop plans? Well not only does it have a removable roost, it also has electricity for a heated water feeder, lights, and an IR chick-cam so you can keep an eye on your favorite new members of the family!
This coop is the ideal all in one.
14. Pastured Poultry Pen by PVC Plans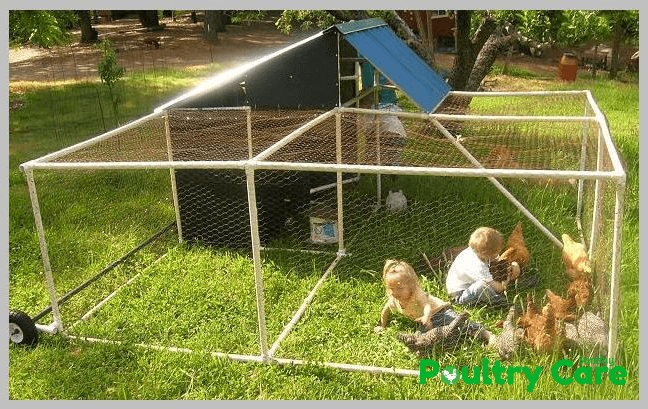 This could well be the easiest chicken coop to build of them all. It's made mainly of PVC pipes, mesh netting and wire. This is good for two reasons.
Not only does it make it extremely easy to build, but it's also extremely cheap to get all the materials too. This makes it one of the best budget coops on the list. 
Related Article – Silver Laced Wyandotte : Are Everything They're Cracked Up To Be
15. Free Chicken Coop Plan at MyOutdoorPlans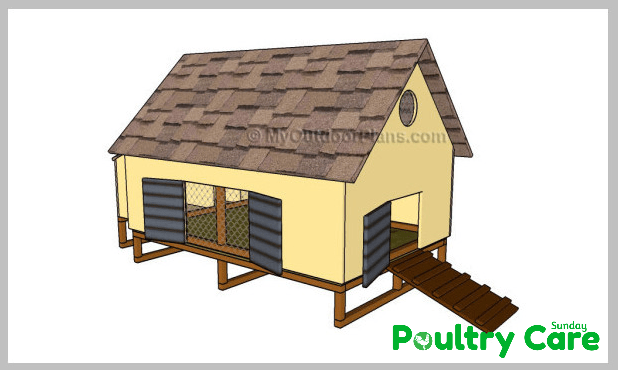 This coop is bigger and sturdier than a lot on this list. It's primarily made out of wood and comes in at 72″ long and 48″ wide.
The plans are relatively easy to follow and the whole build shouldn't take more than a day. It has a high spec roof and windows to ensure ventilation.
16. Chicken Condo' Coop Plan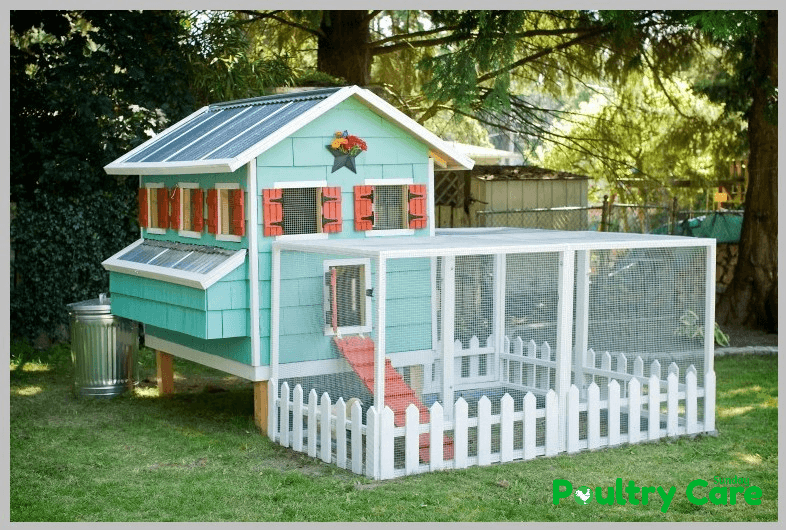 This is the next step in chicken coops. Not only is this much bigger than a lot of the coops on this list, coming up to 12 chickens, but it also offers shade to keep your chickens cool in the summer.
On top of that, the nesting box is easy to get to and it offers some form of insulation in the winter.
17. Old Play Set to Hen House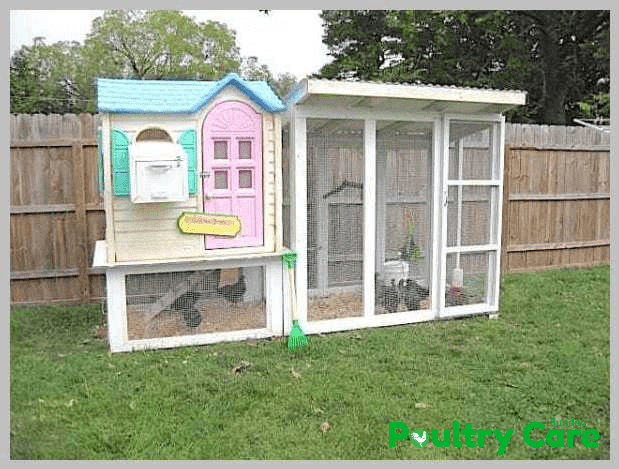 This next coop is a fun, creative way to build a coop for your chickens. It revolves around utilizing an old play house and adding some wire, wood, and plastic, to turn it into a chicken coop to remember.
Because the play house takes up a large amount of the space, building the coop is quick and easy.
18. Sunrise Chicks Chicken Coop Plan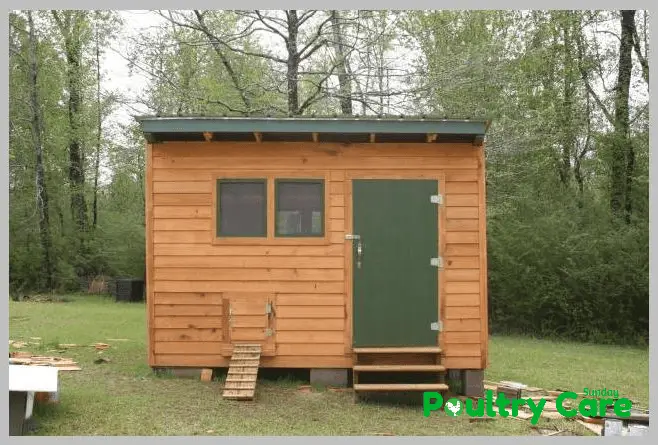 This is one of the biggest scoops on the list and can house a massive 30 chickens. This is more for the serious farmers than the odd family pet.
It's raised to protect it from predators and it's so big it has a human sized door, which makes it easily accessible for cleaning and collecting eggs.
19. Harriet's House – DIY Chicken Coop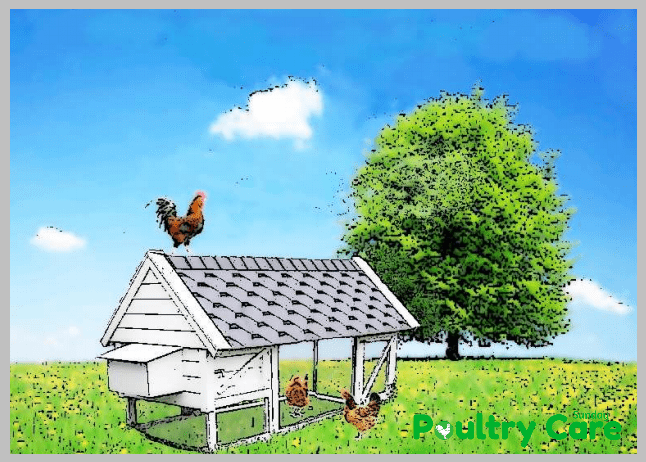 This is a sophisticated chicken coop and will require some serious building. However, the plans are easy to follow and you will be left with a coop to be proud of.
Overall it's 40" x 144" including the 28" x 40" hoop. It has an attached run, holds 4-5 birds and 2 nest boxes.
20. Free Pallet Chicken Coop by Judy
This clever coop measures 7×7 and can hold up to 12 chickens. The clever thing about this scoop is that it's made out of pallets.
Not only are they easy to get your hands on, but they're easy to fit together and could save you up to $1000! If you want an affordable, easy to construct coop, look no further than this!
Related Article – 10 Free Chicken Run Plans & Ideas That Are Easy to Build (100% Free)
21. The Wee Kirk Coop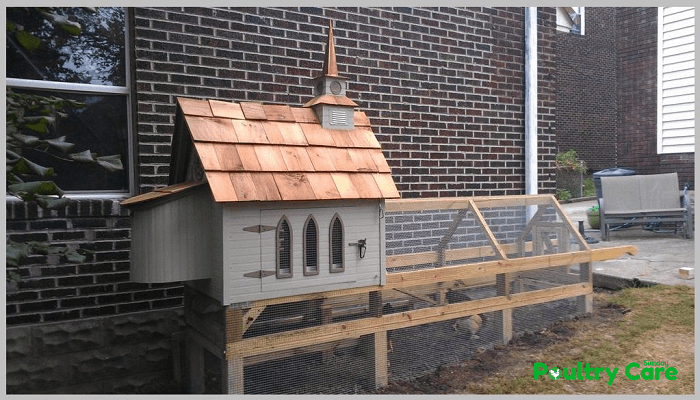 This high flying coop looks more like a church than a chicken coop. But if you love your chickens and you want the best for them, then why not?
It's built mainly from wood, but also incorporates wire to secure it to the ground and keep pesky predators at bay.
22. 'Pallet Palace' DIY Chicken Coop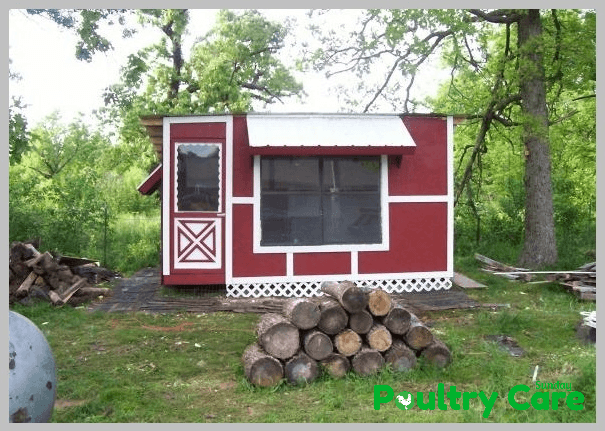 This is another large but easy to build the chicken coop. This measures whopping 16×8 feet and can house up to 32 chickens!
Plus, because it's predominantly built from pallets it's easy to put together. It comes with a door and two windows, ensuring it scores high on the ventilation front.
23. Wire Spools Chicken Coop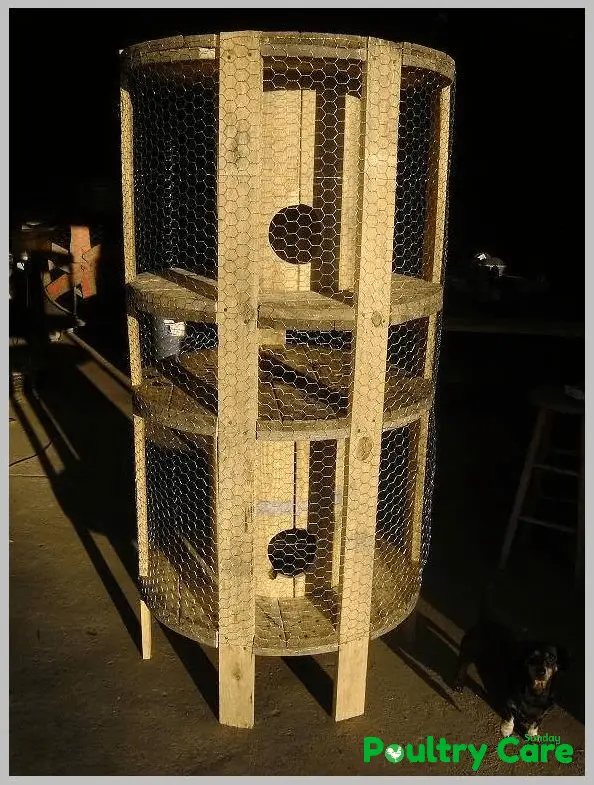 This is a peculiar looking coop, standing vertically. It can only hold 2 chickens and looks more like a stair case than a coop.
But what is good about this coop, is that it's made from mainly wire and a bit of wood. If you're tight on space, this is a good choice.
24. Free Chicken Coop Blueprints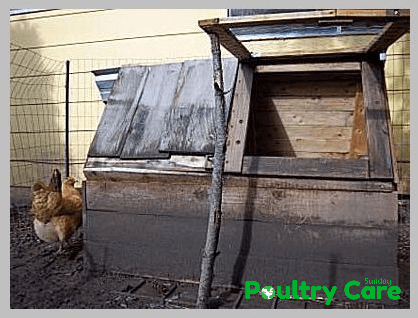 Housing up to 4 chickens and measuring 8×2 feet, this coop is extremely basic. It can be built in just a few hours and requires just a few planks of wood.
This makes it one of most affordable coops to build and still offers some ventilation with a propped up, flexible roof.
25. DIY Chicken Coop From Pallets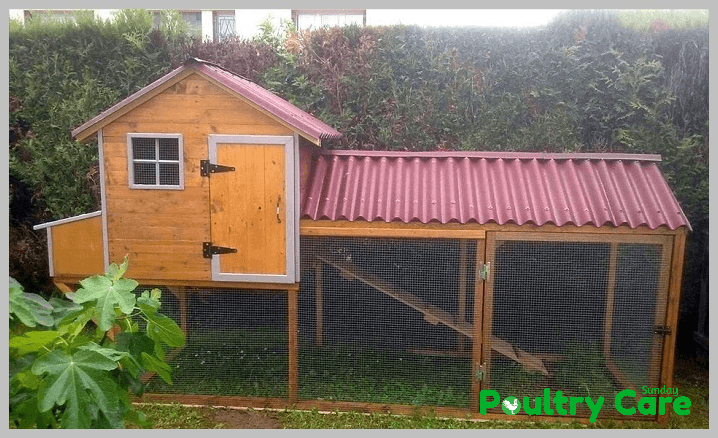 This coop is a smart, effective design. Not only does it offer a large secure area, protected with wire, but the building section is raised keeping predators at a safe distance!
It isn't the easiest to build, but with the easy to follow plans, you could have it built in a day or two. Plus, you just can't go wrong when the chicken coop plans free!
26. Build a Chicken Coop by Home Depot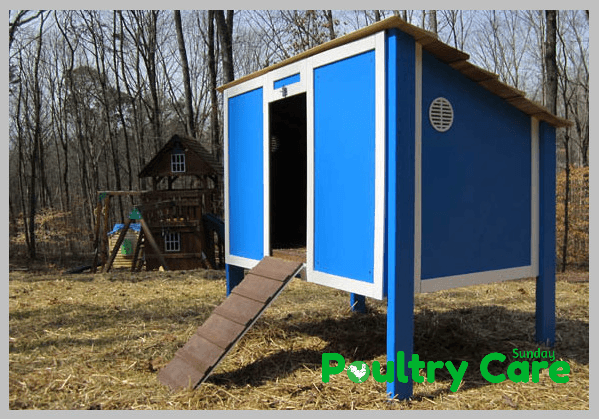 This coop plan is ideal for three chickens and is easy to build. It focuses on a cozy, well-sheltered place to roost for the hens. This is basically made of 2 x 4 x 12 boards,11/32 x 4 x 8 plywood sheets, and 12 feet cedar siding. It has a nesting box, ventilation, a feeder, and waterer.
27. 7 Free Coop Plans by Backyard Farming
There are seven free coop plans to choose from that are provided for free by different universities and extension offices. You can choose from the following coop plans: for 15-20 hens, for 25 to 40 layers, or for 50 to 80.
There is also plan for 20 by 20 layers, for small poultry or pigeon house, a turkey range shelter plans and for a 50 by 500 turkey shed.
28. Farmer Kittys Chick Coop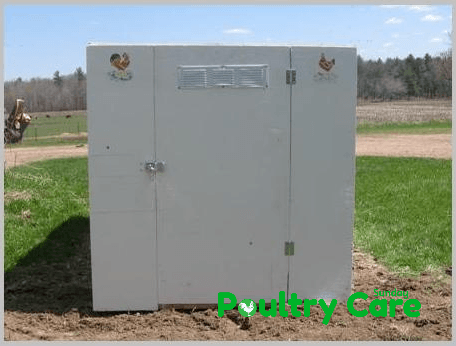 This chicken coop plan has the ideal capacity of 8 chickens with an 8 by 4 dimension. It is built for the purpose of raising chickens only for a few months in a year.
This can be literally built within a few hours for it is a simple and an inexpensive design.So this is for you if you are a seasonal poultry raiser!
29. Shed Chicken Coop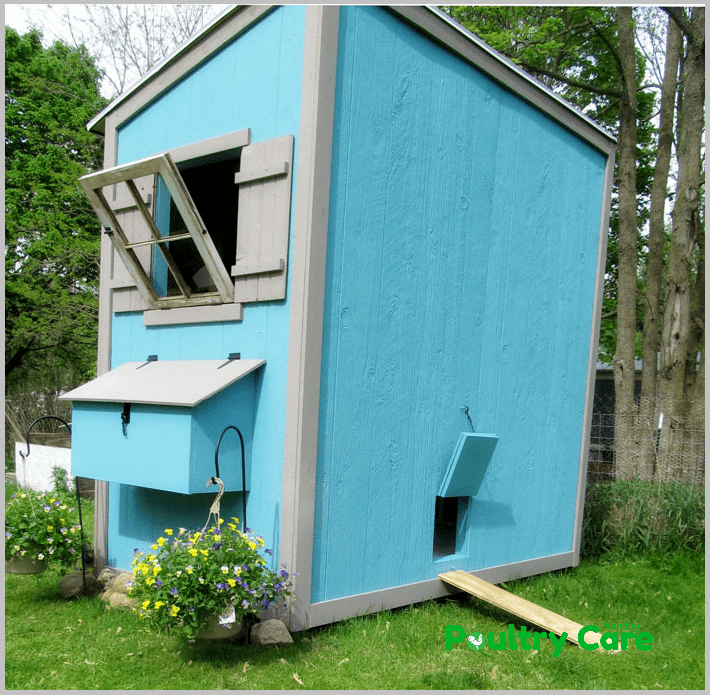 This traditional shed style chicken coop has an ideal capacity of 8 chickens in 4 feet by 8 feet dimensions. It uses a t1-11 siding and used wood pallets as a foundation.
The old wood windows are also re-used. It has a door on one and a humble sloping roof. Nothing fancy so it is economical and easy to build.
30. Permanent Hoop Coop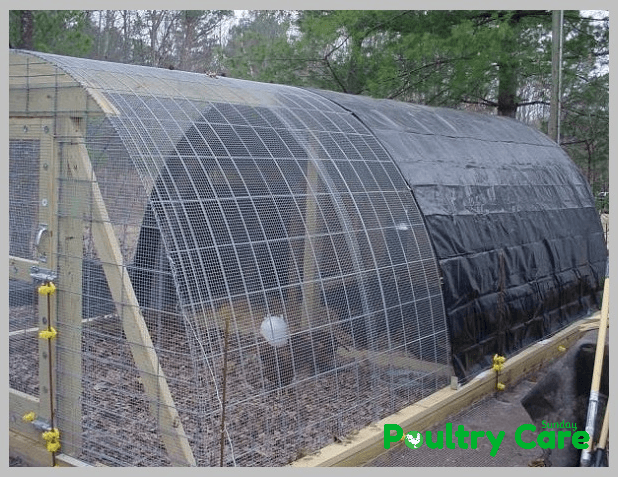 Built using galvanized fencing staples and 2 rolls of hardware cloth, this chicken coop is inexpensive and easy to build. It is intended for 16 chickens. The shelter measures 8 by 8 feet and the total dimension is 8 feet x 16 feet.
The screen and curvy roofing serve right for heat transmission or as a warmer during winter. Its foundation is sturdier than other chicken coops during strong winds.
31. Chicken Tractor by Kevin Meyer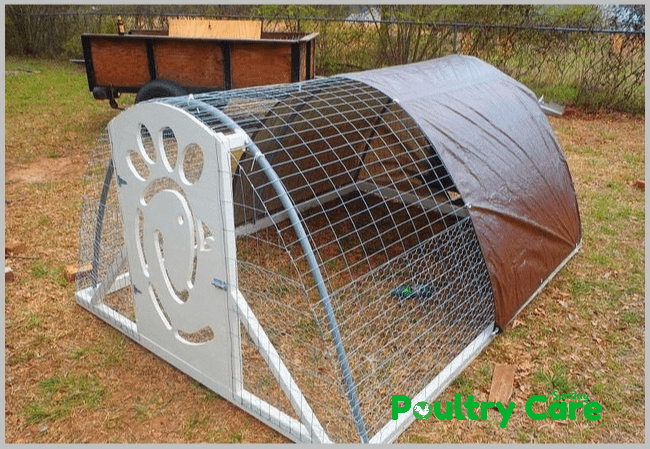 This is easy to build the chicken coop for 4 chickens with a total dimension of 4 feet by 8 feet. It is a portable chicken coop – can be moved easily around the backyard.
Used wood panels are 2 feet x 3 feet for the rectangularly shaped pens. PVC arches and slim chicken wires are used for a lighter and easy grasp during transfer.
32. The Kerr Center Chicken Tractor 1.0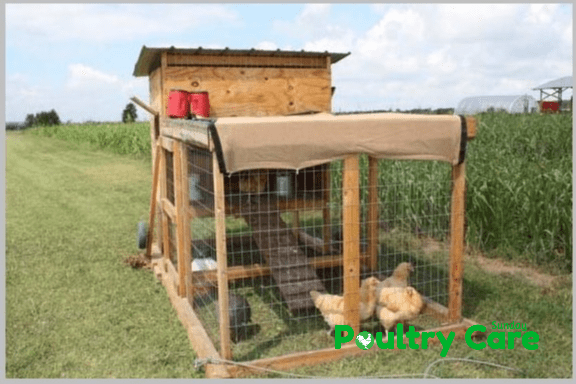 It is easy to build the chicken tractor from the Kerr Center that is perfect for 3 chickens. It has a total dimension of 10 feet by 5 feet and is raised from the ground.It has nesting boxes and enclosed shelter.
It is roofed with sunshade cloth. It can be rotated over vegetable garden beds for the birds to till the soil while foraging. Economical and easy to transport!
33. DIY Chicken Coop by Melissa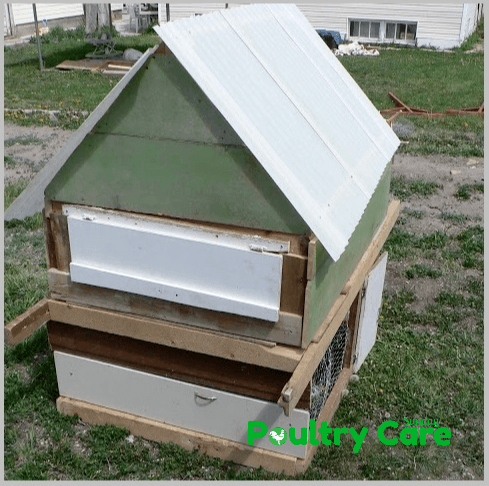 Easily made of used wood, it is an ideal 3-chicken house witha dimension of 3.5 feet by 3.5 feet and 6 feet tall. A back door opens to gather the eggs. For the natural roosting feeling, it uses a stick from the apple tree.
The door used is from an old kitchen cabinet. The ramp is hinged. Pull the string to ramp up and close off the top area.
34. The Feather Factory Chicken Coop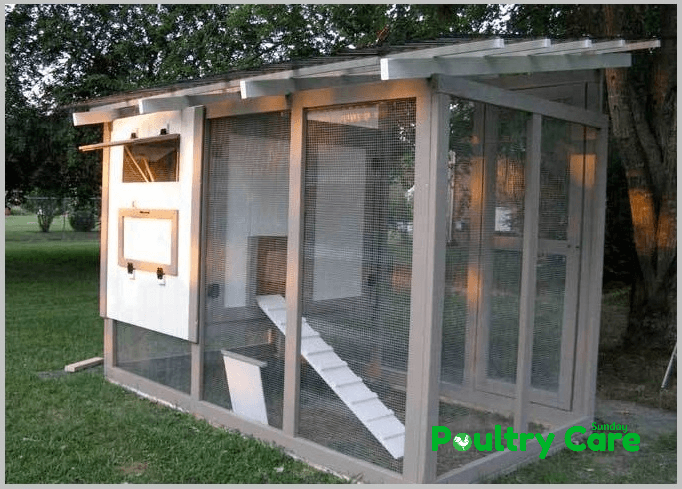 A little difficult to build, this sturdy chicken coop is ideal for 5 chickens with a total dimension of 10 feet by 5 feet. The foundation is made of wood while the walls are screen wires.
Properly ventilated, it is large and hens are secure. It will last a few years so it is worth the investment. It is deal for long-term poultry-raising.
35. Small Chicken House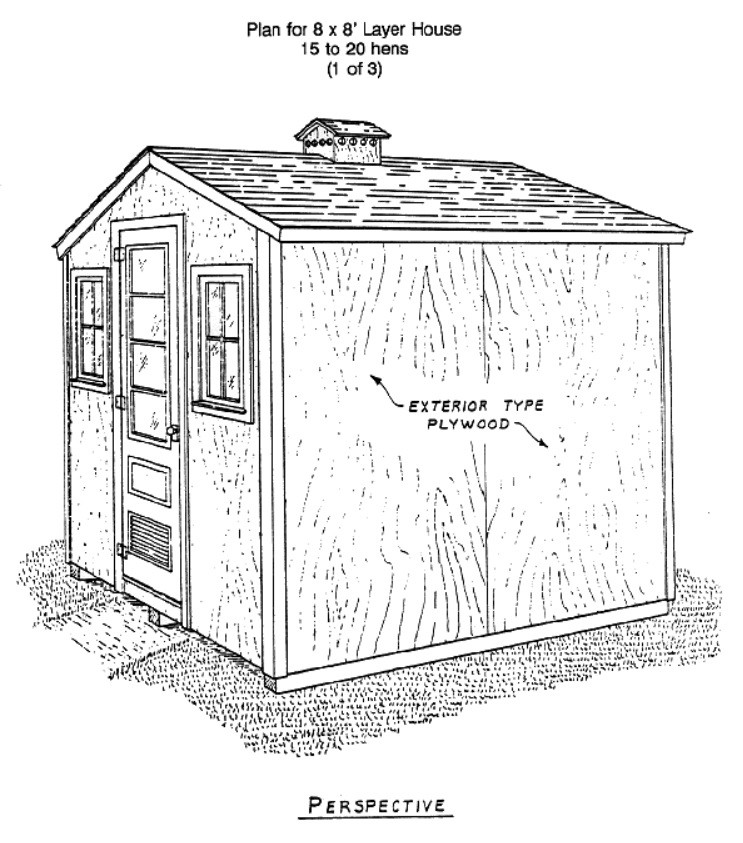 This chicken house accommodates 16 chickens. It has a dimension of 8 feet by 8 feet. It has 3/4 inches plywood flooring and exterior, adjustable sliding peg board vent, tilt in the window, storage area, and a litter board.
Difficult to build as it may, it is sturdy, so chickens are safe from bad weather, predators, injury and even theft.
36. Large Chicken Coop Design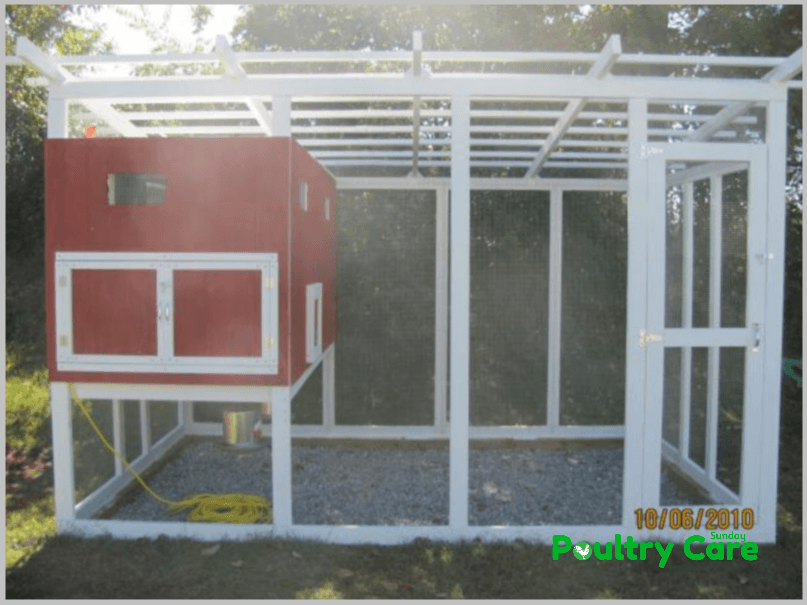 With 4 feet by 8 feet shelter size from the total dimension of 8 feet by 12 feet, this chicken coop is hard to build. It can house 8 heavy laying chickens freely. With boards and screen, this coop is sturdy and chickens are secure and safe from predators and other elements.
37. A-Frame Chicken Coop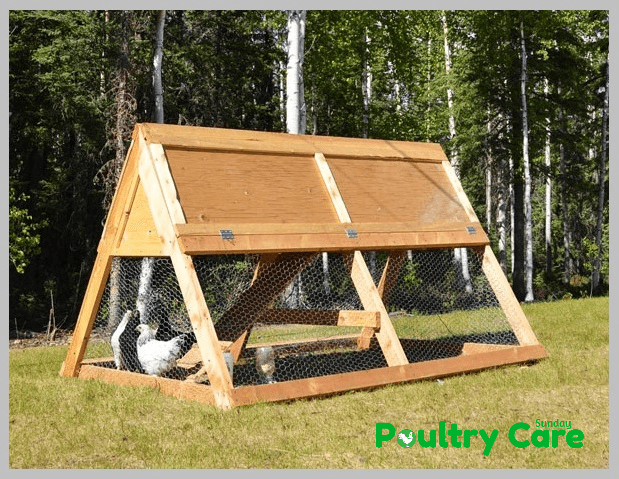 This is an easy to build portable chicken tractor designed by Ana White. It is the most efficient in terms of weight to space ratio that can accommodate 3 chickens.
It costs less than a hundred dollars and uses plywood, some boards and net as the walls.  It has a 10 square feet shelter on top and is light weight for carrying or transferring around.
38. Crib Chicken Coop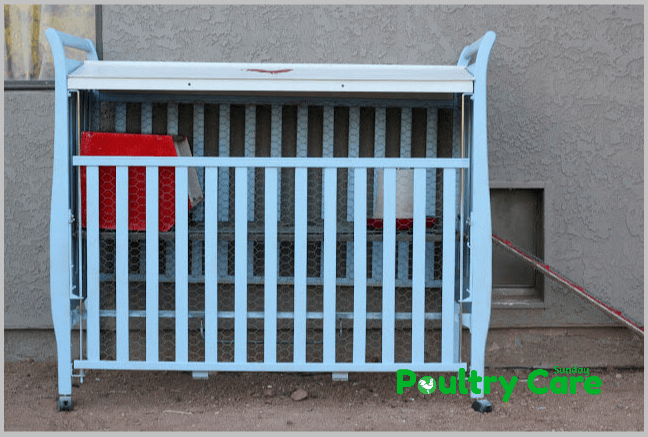 It is a super easy to build chicken coop as it was derived from a used crib. It has a dimension of 2.5 feet by 4 feet and can cater for 2 chickens.
Two sides were lined with chicken wire and a drop side comes down to gather eggs and fill the feeder easily. You just have to cover its inside with chicken wire then apply a nice roof.
39. The Trampoline DIY Chicken Coop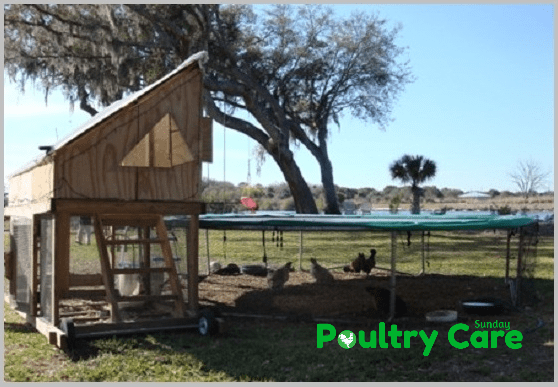 After building a roosting area for them, a used trampoline can be used as an enclosure and a run for the chickens. It has chicken wire around the bottom for them to forage at daytime.
To cross from the roosting area to the foraging area, a 5-gallon bucket between them serves as the cross over.  The coop has wheels for easy transfer around the yard.
40. Smart Design Chicken Coop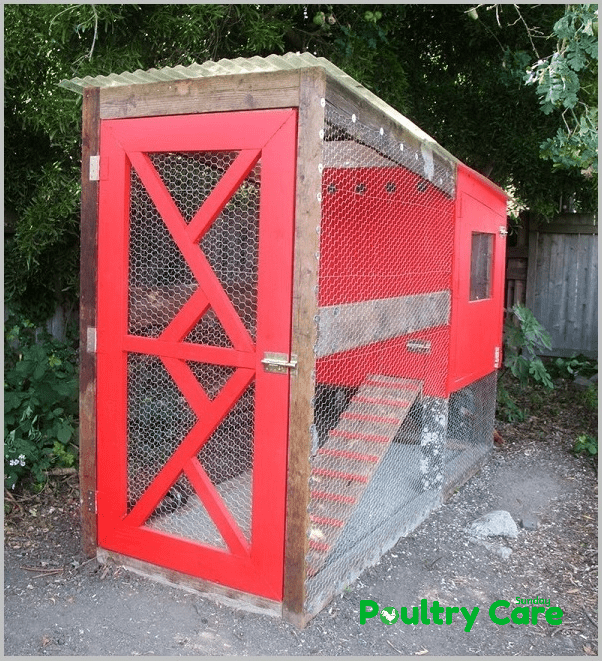 This rustic-modern and eco-friendly 5 chicken capacity chicken coop is easy to build with its 4 feet by 5 feet dimension.  It is complete – with roosting area, a nesting box, a run and a ladder for moving about the coop.
It was made from reclaimed woods. It is predator proof and has vinyl flooring, nesting box, roosting bars and good ventilation.
41. Ana White Small Chicken Coop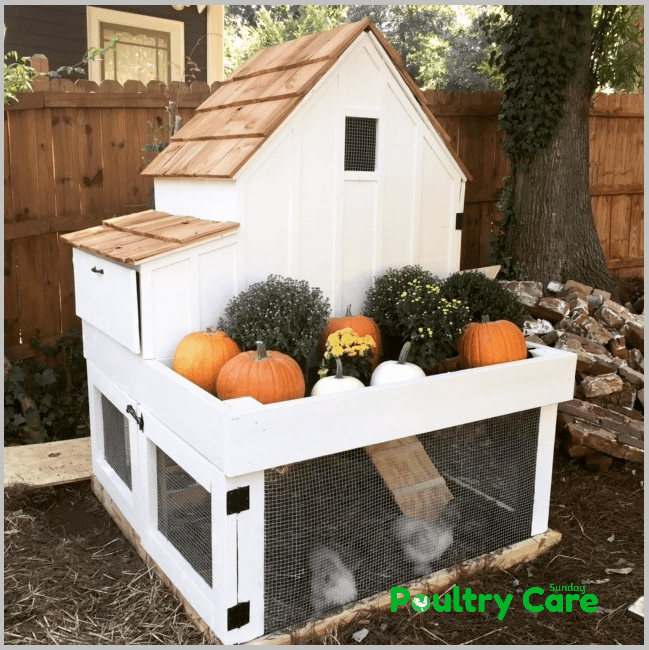 This is another easy to build a chicken coop from Ana White. It is ideal for 3 chickens and measures 5 feet by 2.5 feet made of wood and chicken wire. It has a planter box, clean out tray and nesting box. It has a 25 square foot run and a built-in roost.
42. 8×10 Large Chicken Coop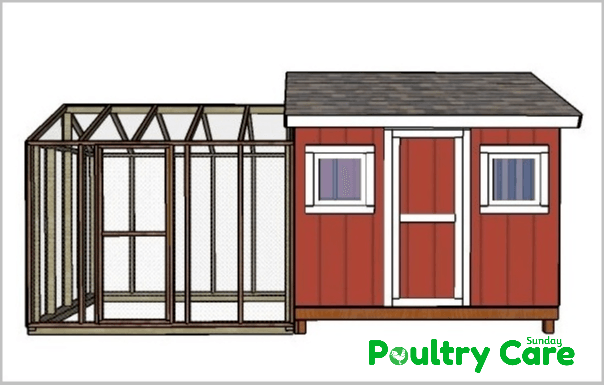 This is a large-sized chicken coop that is a little difficult to build but not quite. It is built to take care of 20 chickens with its size of 8 feet by 10 feet. It has two side windows, a large front door, and a large coop run. It is made of lumber, plywood and chicken wire.
43. Tongue and Groove Cedar Coop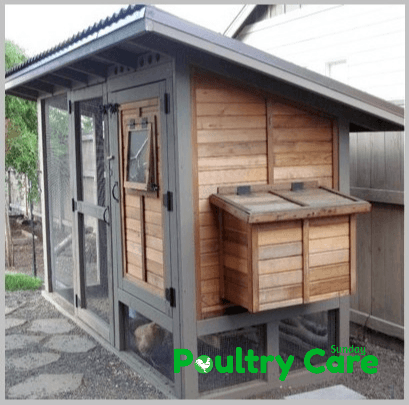 This chicken coop's dimension is 4 feet by 5 feet which are best for 4 to 5 chickens. It may be a little expensive but its nice view and cleanliness are worth it. It has a guillotine style doors for chickens to come in and out.
With the hammock's design, it can save time and money. You can just take the poop out and shake them to the compost pile.
44. Romadfoxs Chicken Coop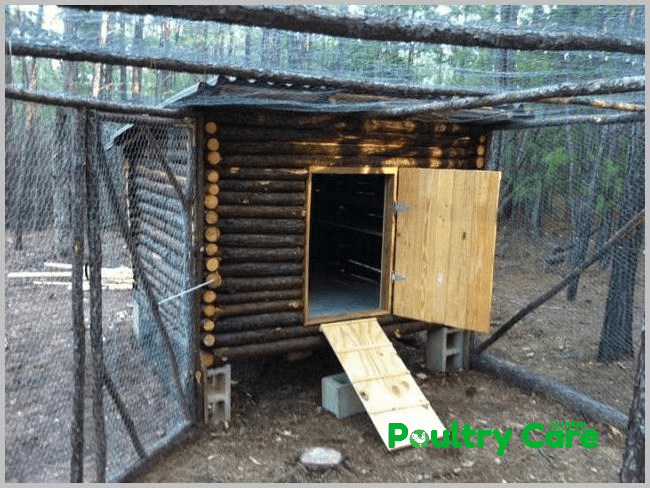 This aesthetically pleasing 9-seater chicken coop measures 6 feet by 6 feet. It is a not so easy to build coop.It has gaps in between logs that serve as ventilation. Its doors are 3 feet in height and 2 feet in width with the egg box access of 1.5 feet high and 3 feet wide.
45. Budget Chicken Coop Plan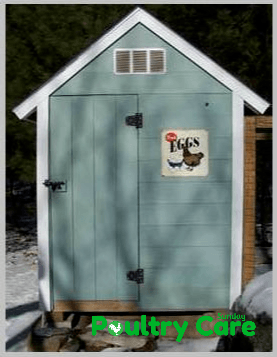 This chicken coop plan is budgeted specifically for 10 chickens and building it is easy. Made of wood, it is a large coop with only 600 dollars expense and ventilation are situated at the top.The dimension is 8 feet by 5 feet. It is perfect for a garden landscape.
46. Tarter Farm Chicken Coop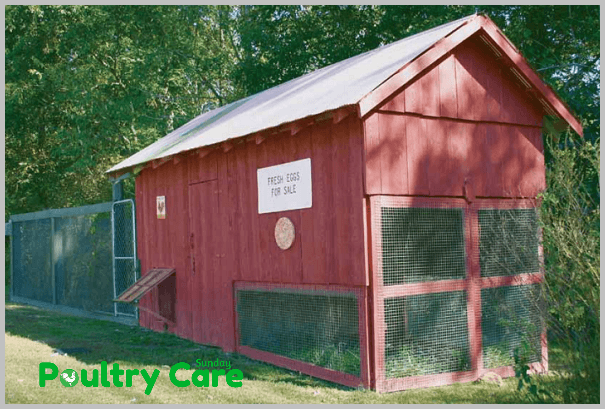 This large chicken coop that can accommodate 32 chickens measures 16 feet by 8 feet. Almost double the size of other coops, right? Big as it is, it is not so difficult to create.
It uses a metal sheet for the roofing and various cut sizes of oak lumber use galvanized poultry netting and have 3 windows.
47. Small Backyard DIY Chicken Coop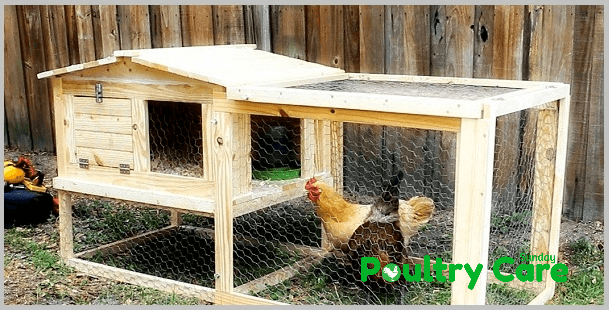 This small chicken coop is easy to set up with its dimension of 3 feet by 2 feet for the shelter. It has an ideal capacity of 2 chickens only. There are 2 smaller doors on one side. One is for more air flow ventilation during the day.
At night, it can be closed so predators can't attack the girls inside. The other bigger door is set up for easier cleaning.
48. M101 Chicken Coop Plans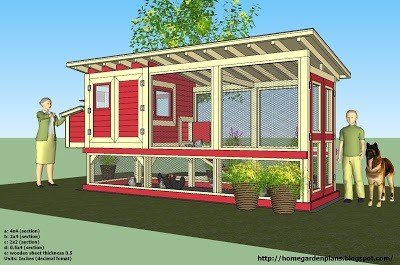 This hard to build large chicken coop is perfect for 7 chickens. It measures 5 feet by 7 feet. It has 3 nesting boxes. Main material is lumber and the total volume of wood needed would be 2.73 cubic meters.
It has perches for chickens, a ramp and the chicken run is wide. Its clean out lid is the door to egg mechanism.
49. Mobile Stagecoach Coop Plans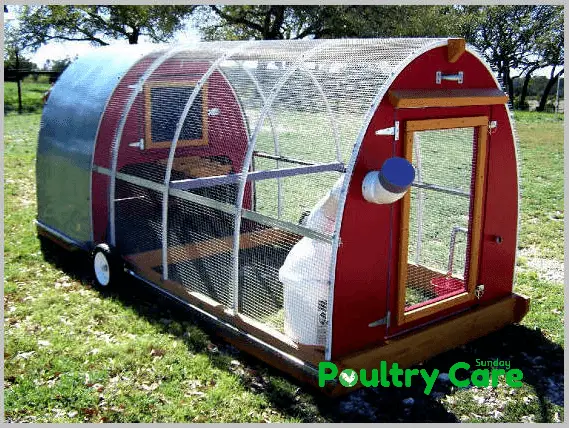 This moving stagecoach coop is a little bit difficult to build. Coop's dimension is 4 feet by 3 feet and has a total of 4 feet by 10 feet. Ideally, it is for 3 chickens only. This is best for an organic garden.
It has a plastic lined roost floor for easy cleaning, auto waterer, auto feeder and Misting System is installed and stainless solar day and night vent.
50. Poop Coop Chicken Coop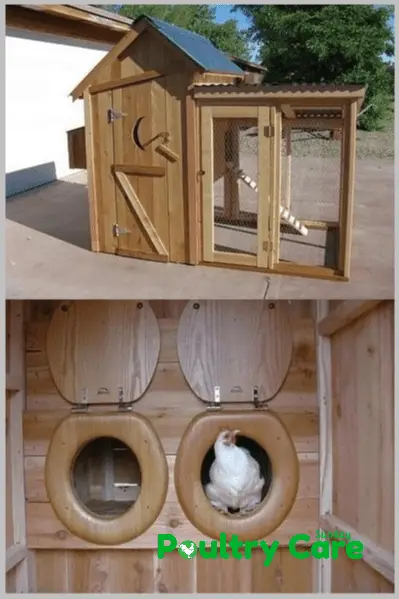 Looking like and outhouse, the chicken door is a lid of a toilet seat and made up of woods and chicken wire. It can accommodate 3 chickens and measures 4 feet by 3 feet. Building this coop is not so easy task but not so difficult also, I should say. Odd name it maybe is, but this coop is extremely adorable.
51. Chick Brooding Cabinet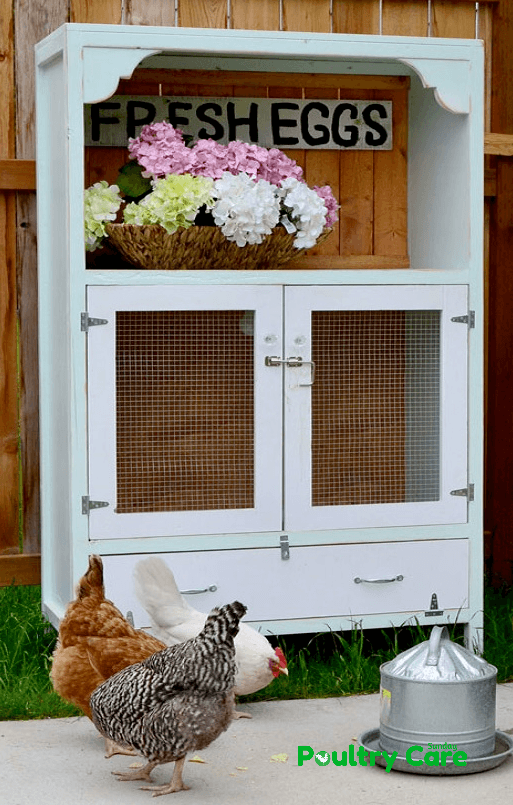 This chick brooding cabinet made out of plywood is practically made out of an old cabinet. Chicken wire was used for the see through nest. It has an easy clean out tray underneath for easy retrieval of poop.
To keep the chicks warm, a light is put inside the cabinet. It is 66 and ¾ inches high, 39 inches wide and 19 inches thick.
52. Housewives of Riverton Chicken Coop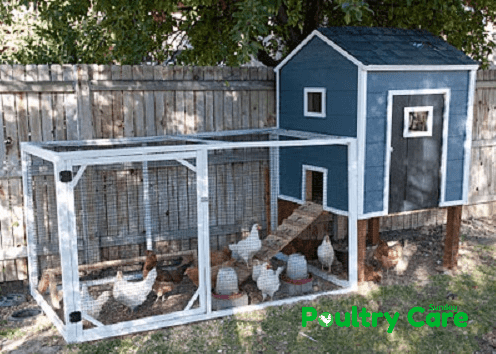 This 290 dollar chicken coop can accommodate five chickens. The base was out of boards and the wall is made of plywood. It has plexiglass windows and the large door is purposely for easy cleaning.
Mesh wire is put around the bottom of the coop. A ramp is provided so chickens can go back and forth to the coop.
53. The Self-Sustain Chicken Coop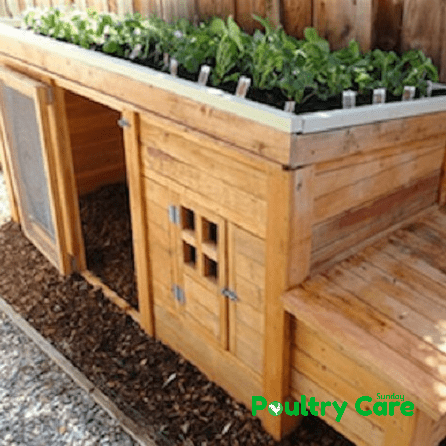 Made up of wooden pallets, this little less easy to build self-sustaining chicken coop is best for 3 to 4 chickens. It measures 4 feet by 3 feet. There is an integrated planter at its top best used as a herb garden. Garden space is saved while the interior is still roomy and cozy for 4 chickens.
54. The Free and Easy Pallet Coop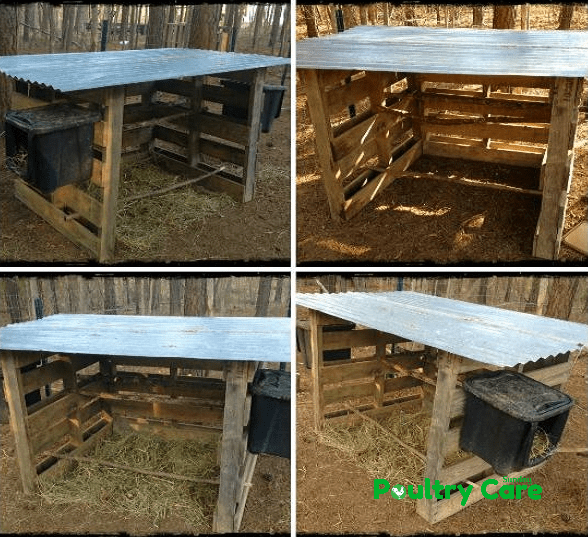 This chicken coop is best for 4 chickens with its 4 feet by 4 feet dimension. It is super easy to build that even the non-skilled carpenter can do. It only uses 3 pallets and any material available that can serve as the nesting box.
Sticks from the woods are used as the roosts. We can even call it "Minimal yet functional" coop!
55. Coq au Vin Coop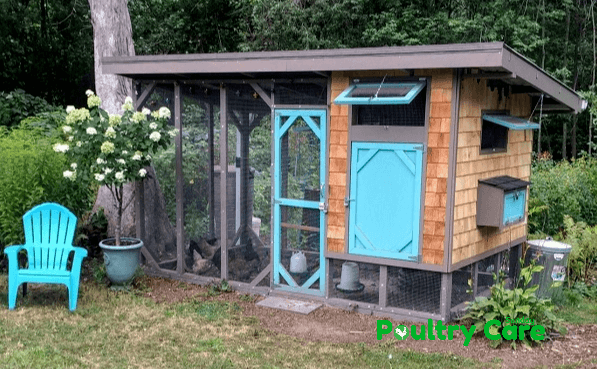 This chicken coop stands for 6 chickens with its 4 feet by 6 feet size. It takes more than a little carpentry skill set to build as this is not as easy as other coop to build.
It is eye catching as it has great color combination. It is great to put on areas where there are chicken predators.
56. Stoop Chicken Coop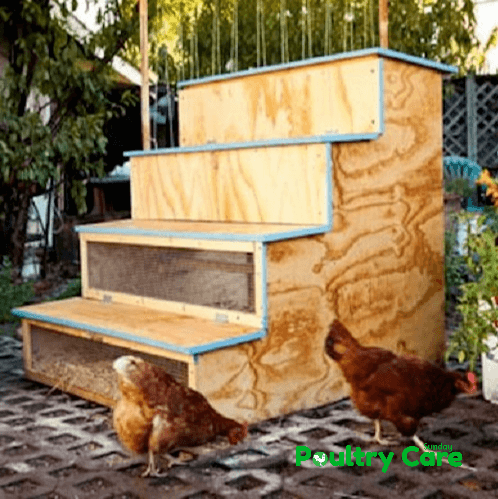 This chicken coop can save space. It is an easy to build coop with ideal capacity of 2 chickens. It measures around 8 square feet and uses plywood as the main material. Chickens can roam around it while foraging.
The first bottom step is for their poop and the second one is for their egg laying. The steps serve as their roosting place
57. Garden Shed Chicken Coop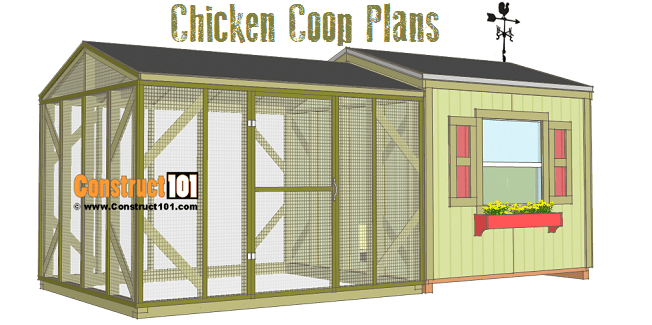 This medium to large chicken coop design can accommodate up to 16 chickens. It measures 8 feet by 8 feet and building it can be a little less than easy as they are for intermediate chicken coop builders.
It consists of 10 feet by 8 feet chicken run, 8 feet by 8 feet garden shed and the chicken coop nest box has stackable 4 compartments.
58. Geodesic Dome Chicken House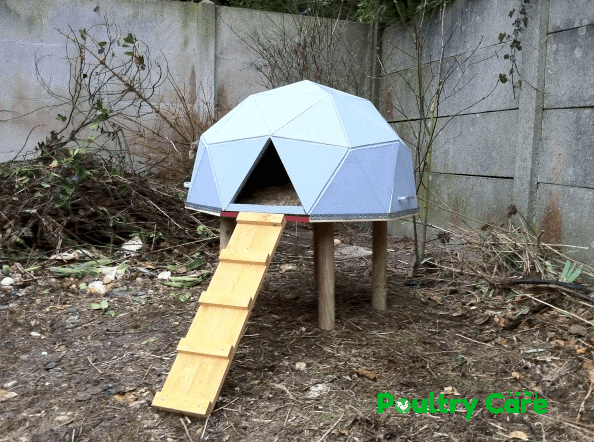 This little dome shape chicken coop houses 2 chickens. The dome measures about 1 meter in diameter and is about 50cm high. It has a triangular entrance of 30 cm on its side. Its design is intended for winter use.
For the safety of the chicken flock, it is raised from the ground to be away from moisture that is bad for the ladies lungs.
59. Choo Choo Coop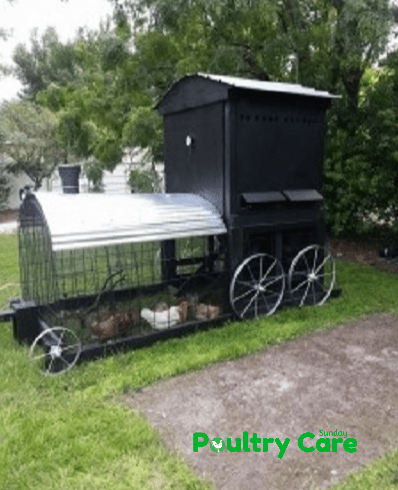 This train-inspired chicken coop can house 3 to 4 chickens at the same time. It is provided with a double-top door for changing food and water and for easy access to the hens' eggs.
This tractor uses recycled materials. Some are the used old swings' wheels and the used nesting boxes. It is safeguarded from predators so hens are safe. 
60. Steadfast's Chicken Coop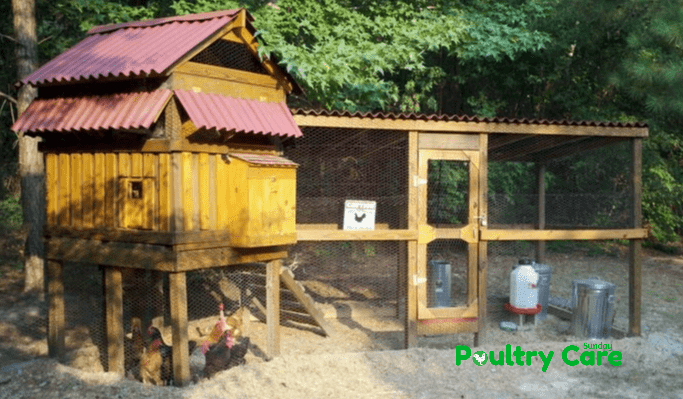 An outgrown swing set is used in these 4 feet by 4 feet chicken coop. It can house up to 7 chickens and preparing this coop is a little difficult. There is an installed solar and wind turbine power.
One of the reasons why it costs almost a thousand dollars! For egg grabbing, the door opens from the outside. Four nesting cubies in each box is set.
61. The Rustic/Whimsical Coop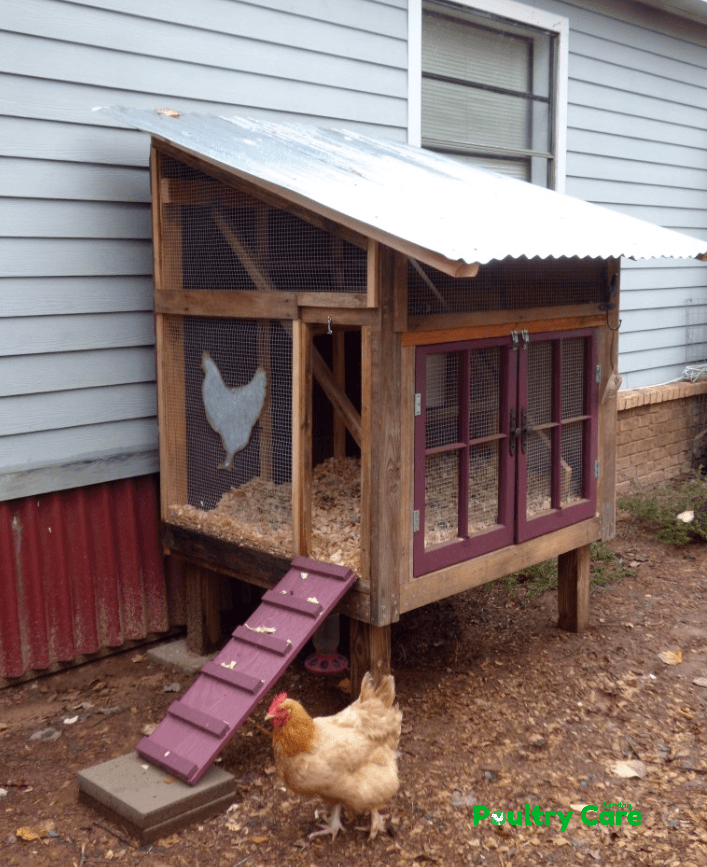 This rustic, cool looking and raised coop is easy to build. It measures 4 feet by 4 feet and can house up to 4 chickens.  It is attached against a side of the house. Since there is no attached run to it, chickens can free range. Main materials are thin rustic roof, panel boards and chicken wire.
62. Raised Wooden Pallet Coop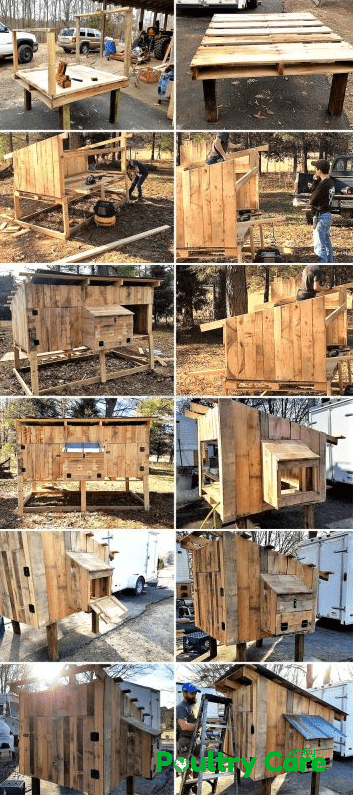 As the name suggests, main material of this chicken coop is wooden pallets. It is raised from the ground so the hens can freely range on their own anytime they feel like eating. The output is an economical and functional chicken coop and can house about 4 chickens.
63. Pretty And Functional Chicken Coop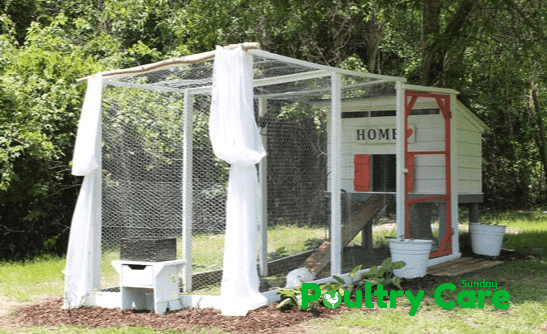 This pretty and functional chicken coop can house up to 4 hens. For easy access, 3 doors are built around it. Each one is intended for exit, collecting eggs and easy cleaning of chicken poop. It is raised from the ground so predators such as raccoons and bears around.
64. Old Dog House Chicken Coop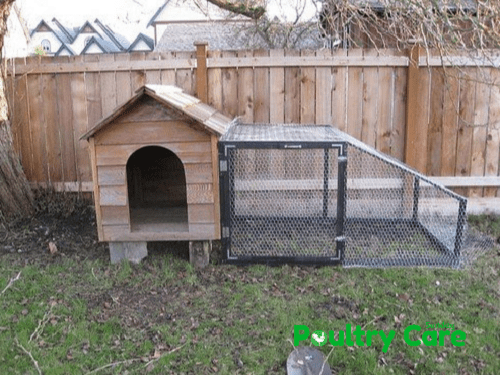 You build this 12 square feet size chicken coop, first step is to buy a old dog house. Then Convert the Old Dog House Into a Chicken Coop. This chicken coop is perfect for 2-3 hens. 
65. Red, White, and Blue Coop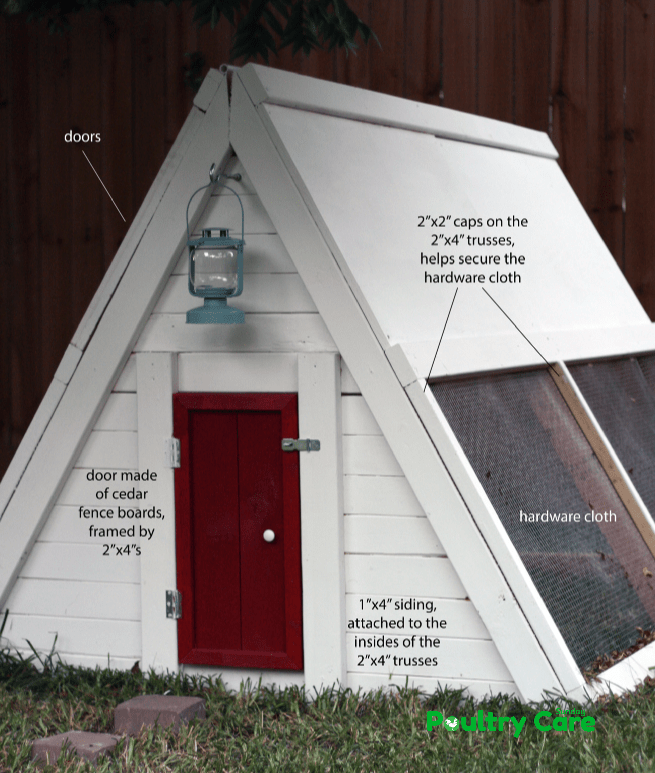 This rustic and sturdy coop can house up to 4 hens. It is a form of A-coop. The red door is made of cedar fence boards and framed using 2 inches by 4 inches boards. Inside is the large run for the hens and in the loft. This run measures 8 feet by 6 feet.
66. The Palace Redone Chicken Coop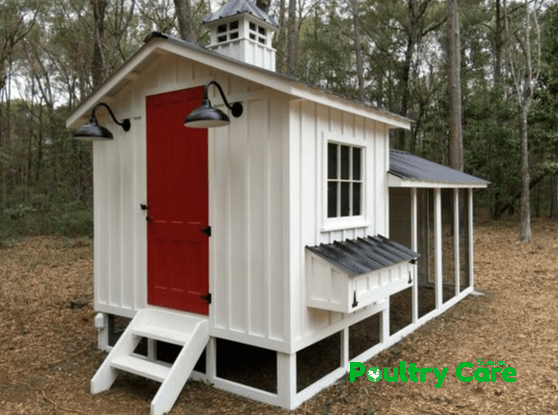 From its name, the quaint design is redone from parts of an old house. It is raised from the ground with 2 steps stairs. It has chandelier on both sides of the front door.
The run below is large and it looks like a real house in diminutive form. It looks difficult to build and can house up to 10 hens.
67. Saltbox Chicken Coop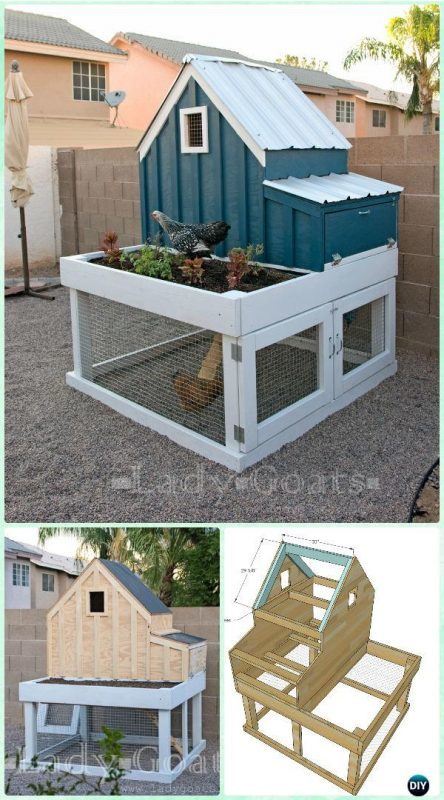 This saltbox chicken coop is an easy to build coop that can house 2 to 4 chickens. It looks like the manly version of chicken condo coop. It was made from solid wood.
With this design, the eggs can be collected without entering the coop. Herbs such as lettuce can be grown on the top garden for chickens to feed on them as well.
68. Chicken Coop with Planter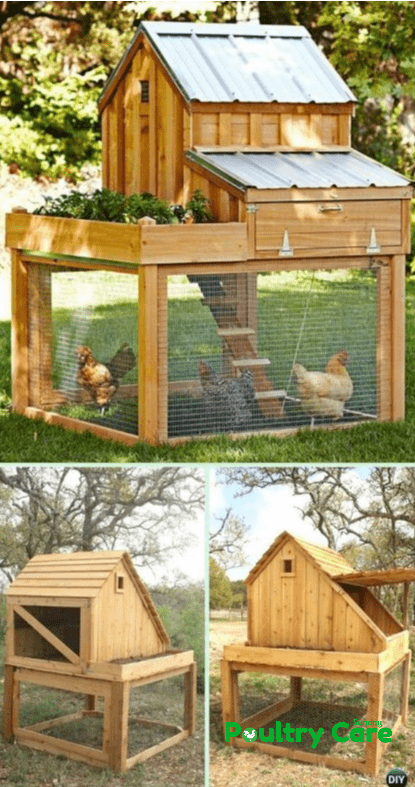 This is the smaller version of the Saltbox Chicken Coop and can house 1-2 hens. Easy to build chicken coop, if you interested possible to make quickly.
69. The Small Modern Coop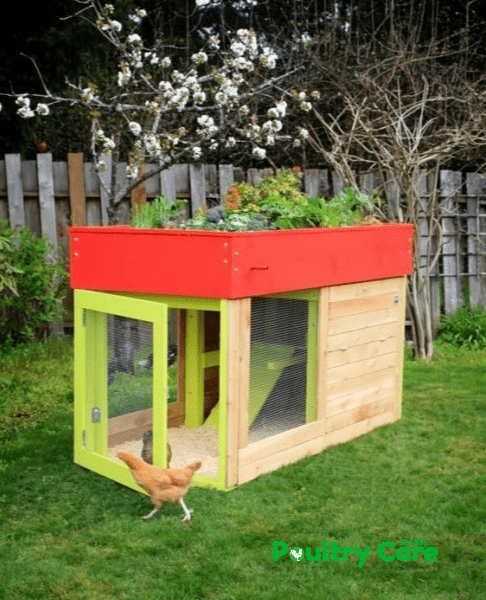 This environment friendly chicken coop can fit well in any small backyard and can house up to 3 chickens. Growing food on top of this coop is a wonderful daily experience.
Main materials are cut wooden pallets and chicken wire. Some call it the modern coop to the color combination and design.
DON'T MISS
About Author (Pauline G. Carter)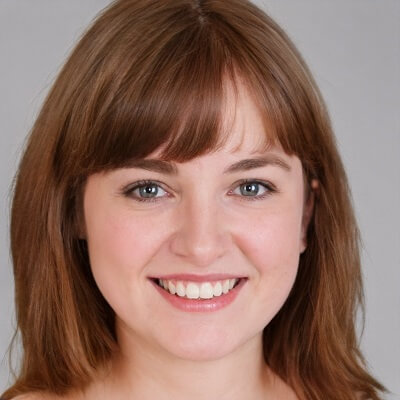 Pauline G. Carter is a well-known pet blogger who has written about the world of pets for several years. She is passionate about pets, from cats and dogs to birds, reptiles, and poultry. Her blog, which is updated regularly, is filled with articles and guides on pet care, nutrition, and training. She also shares her experiences and observations on pet ownership, making her blog relatable and informative for pet lovers. She is a true animal advocate and is dedicated to promoting responsible pet ownership. Let's Go …